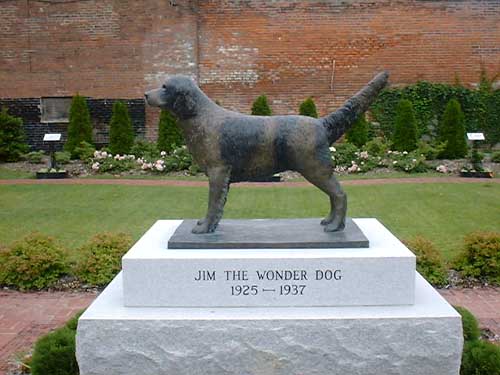 One of my favorite rural Missouri tales involves Jim the Wonder Dog, an almost magical canine from Marshall.
According to legend, Jim the Wonder Dog could, among other things, predict sporting events and recognize several languages.  Jim the Wonder Dog's legend was so great that there is a statue of the pooch in Marshall.
Why mention Jim the Wonder Dog, besides the fact that he was amazing? The dog's home county - Saline - could play a role in the Missouri redistricting process.
For instance, Sen. Bill Stouffer, R-Napton, told St. Louis Public Radio Friday he may filibuster a map that passed the House this week. Saline County is one of several rural counties encased in U.S. Rep. Emanuel Cleaver's reconfigured district. 
Stouffer isn't alone in his frustrations over the proposed 5th District. At least two House members - Rep. Bob Nance, R-Excelsior Springs and Rep. Joe Aull, D-Marshall - say including counties like Ray, Lafayette and Saline in Cleaver's district will dilute that area's influence.
"My big concern is I represent a very rural area - Lafayette and Saline County. And right now Lafayette and Ray and Saline Counties have been put into [Cleaver's district], which is mainly urban Kansas City," Aull said earlier this week. "And the Kansas City area will make up about 85 percent of the proposed district."
While Aull says he has "a lot of respect" for Cleaver, he said the new 5th will be "an urban district."
"I just think we'll lose some clout out in rural area," he said.
Nance - who was one of three Republicans to vote against the House map - expressed a similar sentiment in my story for the St. Louis Beacon.
Both lawmakers said the solution to their worries was placing the rural counties in question in other districts. Aull suggested that the three counties go into U.S. Rep. Sam Graves' district, while the rest of Jackson County goes into Cleaver's district.
Aull unsuccessfully offered an amendment on Wednesday that would have done just that. A few Republicans - such as Nance, Rep. Mike McGhee, R-Odessa, Rep. Brent Lasater, R-Independence, and Rep. Stanley Cox, R-Sedalia - voted for the measure. It failed 110-44.
The three counties tend to lean Democratic - they all went for Ike Skelton is last year's congressional contest. So it may be fair to say that Republicans - who control the legislature - may not want to make Graves' district more Democratic.
But Aull says the trio of counties have shown signs of moving into the Republican camp.
"I don't think you can say those are very strong Democratic areas, I think there's more of a split than a lot of people realize,"said Aull, referring to the rural counties in question.
In any case, while St. Louis and, to some extent, Jefferson County will play a role in forming a new congressional map, the placement Mid-Missouri counties - including Jim the Wonder Dog's home - could be an intriguing subplot.